The
Eckberg Family
History and Genealogy Page
(Last updated October 6, 2003)
Please visit my guest book at the bottom of this page and give me your feedback.
I welcome your comments, additions and corrections.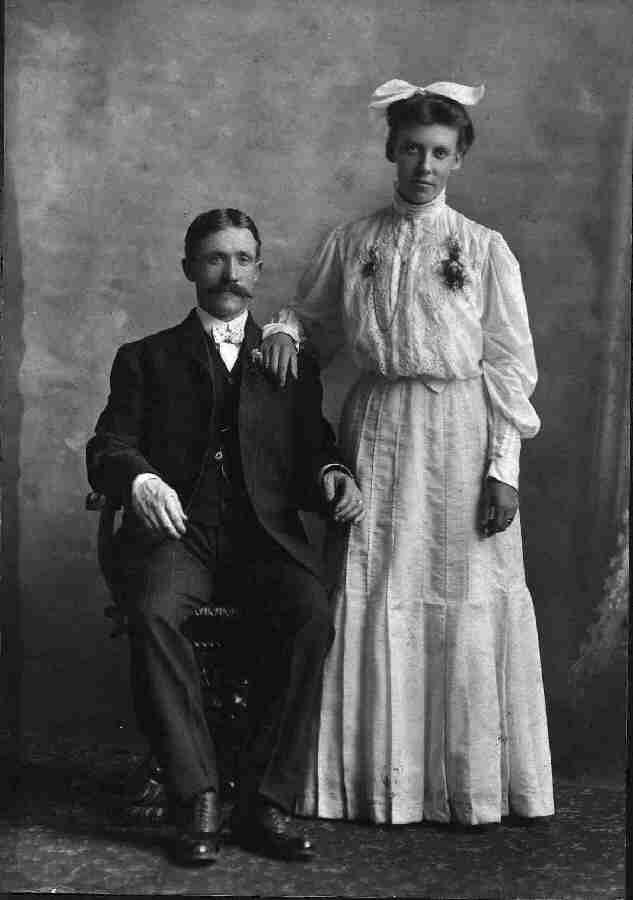 Wedding Picture of Olof Lars Eckberg and Ida Magdalena Almstrom
September 21, 1905
Greenview, Menard County, Illinois
The Eckberg Family History and Genealogy Page is dedicated to Olof and Ida Eckberg, who moved to Bureau County, Illinois in 1910 and raised a family of eleven children, many of whose descendants still live in the area.
The Origins of the Eckberg Family of Bureau County, Illinois
In the mid-nineteenth century, some events occurring in the Southern part of Sweden led to the eventual formation of our Eckberg family. In about 1850 a Swedish soldier named Ola Larsson was living in the town of Solberga. In those days, there were so many Larssons, Olssons, Hanssons, etc., that most soldiers were given, or made up, a "military name." Ola Larsson's military name was Ola Nyman. (See "Names") Of his several children was one named Lars Olsson (as the children were named after the father's first name), and when he grew up he, too, became a soldier. He initially carried his father's military name of Nyman but later created his own name of "Ekberg." Lars married and moved from Skurup, where he had been assigned, to the small farming village of Almarod, near Skivarp, where he apparently remained in the military. One of Lars' sons was Olof, who was born in the neighboring town of Skivarp.

Meanwhile, a tenant farmer named Anders Martensson was living in Orsjo, not too far from Skivarp. He had a son named Marten Andersson who grew up to be a school teacher in Skivarp. Marten got married and started a family and among his children was a son also named Anders Martensson. Anders grew up and eventually went into the military where he was given the name "Anders Sand." Later, he changed his name again, this time to Anders Almstrom. When Anders completed his military service he became a tailor and moved to the village of Almarod, where, among his childen, was born a daughter named Ida Magdalena.

When Olof Ekberg grew up, he left the family to join the Swedish Navy at the age of seventeen. He sailed with the Navy and the Swedish Merchant Marine for five years until he was discharged in December 1901. He almost immediately emigrated to America, settling in Menard County, Illinois, where his sister, Anna Louisa, had previously settled. Two years later Ida also moved to Menard County to be with Olof. As most immigrants commonly did, Olof and Ida took whatever jobs they could find, Olof working in the coal mines while Ida worked as a housekeeper. Within a year of Ida's arrival they were married and soon after moved away from Menard County and the coal mines to a life of farming and raising a family in Bureau County, Illinois.

This site is an attempt to briefly tell the family's history in Sweden and what we know of Olof's and Ida's early years in America. I have attempted to collect as many documents relating to these years as possible in an attempt to preserve the information and make it available to the entire extended family. I hope you find this site interesting and of value to the family.

The links to the left of this page will take you to pages relating to the family's activities over the years, and to pages about individual family members. Information is being added on a regular basis. I welcome any suggestions or additional material.

Dave Eckberg
Denton, Texas
To make corrections, additions or to e-mail me about this web page, click on my mailbox below.


dave@eckberg.com
Many thanks to my good friend, HTML mentor and fellow VietNam veteran, Charlie Wood,webmaster for the Hill 4-11 website, which describes the firebase we served on during our tour of duty. Without his patient help I'd likely still be struggling with the first page.
Sign My Guestbook
View My Guestbook
Use this search engine to look
for specific persons, places or
items on this web page.


Except as noted, all printed materials and photographs © 2006 David Eckberg